BJP wins in Hodal by 3,387 votes: Haryana Assembly Elections 2019
Jagdish Nayar of BJP beats Congress's Udai Bhan in Hodal
BJP won Hodal, defeating second-placed Congress by 3387 votes. Congress had won this constituency in the previous election, but BJP took control of the seat with a narrow margin in this election.
Hodal is in the South Haryana region of Haryana. It is also a constituency reserved for SC candidates, and is a predominantly urban constituency. Defections of former INLD members is a major issue in this constituency.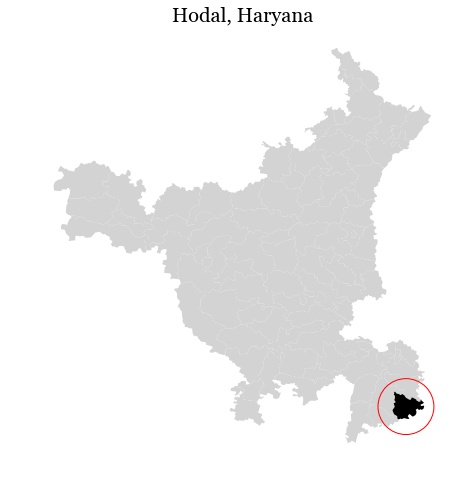 Jagdish Nayar of the BJP received 45.8% of the vote, compared to 43.0% of the Congress's Udai Bhan. BJP's voteshare increased by 21.8% from 2014, while Congress's voteshare increased by 1.3%.
The constituency saw a 2-cornered contest, with Bharatiya Janata Party, Indian National Congress all getting a voteshare of 10% of more.
| Party | Name | Votes | Vote (%) | Party Voteshare Change |
| --- | --- | --- | --- | --- |
| Bharatiya Janata Party | Jagdish Nayar | 55864 | 45.8% | +21.8% |
| Indian National Congress | Udai Bhan | 52477 | 43.0% | +1.3% |
| Jannayak Janta Party | Yashveer | 8590 | 7.0% | +7.0% |
| Indian National Lok Dal | Ram Pal | 1724 | 1.4% | -30.7% |
| Bahujan Samaj Party | Gaya Lal | 874 | 0.7% | +0.2% |
| None of the Above | Nota | 570 | 0.5% | +0.5% |
| Independent | Ravinder | 353 | 0.3% | - |
| Aam Aadmi Party | Karan Singh | 304 | 0.2% | +0.2% |
| Independent | Mahender Kumar | 252 | 0.2% | - |
| Ambedkarite Party of India | Budh Ram | 249 | 0.2% | +0.2% |
| Independent | Satveer | 236 | 0.2% | - |
| Peoples Party of India (Democratic) | Deen Dayal | 156 | 0.1% | +0.1% |
| Independent | Jagdish | 149 | 0.1% | - |
| Tola Party | Raju | 109 | 0.1% | 0.0% |
| Independent | Dharmender | 74 | 0.1% | - |