BJP wins in Palwal by 28,296 votes: Haryana Assembly Elections 2019
Deepak Mangla of BJP beats Congress's Karan Singh in Palwal
BJP won Palwal, defeating second-placed Congress by 28296 votes. Congress had won this constituency in the previous election, but BJP took control of the seat with a landslide margin in this election.
Palwal is in the South Haryana region of Haryana. It is a predominantly urban constituency.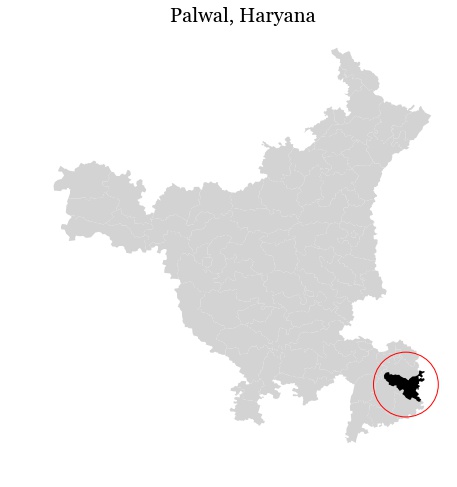 Deepak Mangla of the BJP received 55.6% of the vote, compared to 38.0% of the Congress's Karan Singh. BJP's voteshare increased by 21.6% from 2014, while Congress's voteshare increased by 0.3%.
The constituency saw a 2-cornered contest, with Bharatiya Janata Party, Indian National Congress all getting a voteshare of 10% of more.
| Party | Name | Votes | Vote (%) | Party Voteshare Change |
| --- | --- | --- | --- | --- |
| Bharatiya Janata Party | Deepak Mangla | 89426 | 55.6% | +21.6% |
| Indian National Congress | Karan Singh | 61130 | 38.0% | +0.3% |
| Jannayak Janta Party | Gaya Lal | 6498 | 4.0% | +4.0% |
| None of the Above | Nota | 910 | 0.6% | +0.6% |
| Indian National Lok Dal | Satpal | 775 | 0.5% | -21.0% |
| Independent | Dr. K.P. Singh | 490 | 0.3% | - |
| Aam Aadmi Party | Kuldeep Kaushik | 432 | 0.3% | +0.3% |
| Loktanter Suraksha Party | Puneet Bhardwaj | 384 | 0.2% | +0.2% |
| Bahujan Mukti Party | Sunil Kumar | 320 | 0.2% | +0.2% |
| Independent | Deepak | 255 | 0.2% | - |
| Independent | Karan Veer | 108 | 0.1% | - |
| Independent | Krishan | 102 | 0.1% | - |