An independent candidate wins in Prithla by 16,429 votes: Haryana Assembly Elections 2019
Nayan Pal Rawat of An independent candidate beats Congress's Raghubir Tewatia in Prithla
Nayan Pal Rawat won Prithla, defeating second-placed Congress by 16429 votes. Bahujan Samaj Party had won this constituency in the previous election, but Nayan Pal Rawat took control of the seat with a comfortable margin in this election.
Prithla is in the South Haryana region of Haryana. It is a predominantly urban constituency.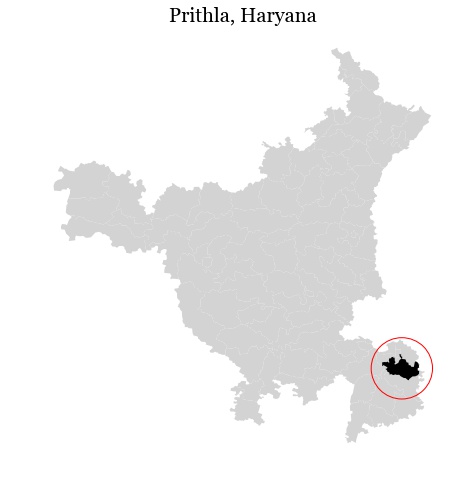 Independent candidate Nayan Pal Rawat received 44.0% of the vote, compared to 32.8% of the Congress's Raghubir Tewatia. Congress's voteshare increased by 6.9%.
The constituency saw a 3-cornered contest, with Independent, Indian National Congress, Bharatiya Janata Party all getting a voteshare of 10% of more.
| Party | Name | Votes | Vote (%) | Party Voteshare Change |
| --- | --- | --- | --- | --- |
| Independent | Nayan Pal Rawat | 64625 | 44.0% | - |
| Indian National Congress | Raghubir Tewatia | 48196 | 32.8% | +6.9% |
| Bharatiya Janata Party | Sohan Pal | 21322 | 14.5% | -12.3% |
| Bahujan Samaj Party | Surender | 8460 | 5.8% | -21.9% |
| Indian National Lok Dal | Narender Singh | 1165 | 0.8% | -14.8% |
| Loktanter Suraksha Party | Kalyan Sharma | 1026 | 0.7% | +0.7% |
| Independent | Rajesh | 747 | 0.5% | - |
| None of the Above | Nota | 642 | 0.4% | +0.4% |
| Independent | Joginder Singh | 420 | 0.3% | - |
| Independent | Surender Kumar | 327 | 0.2% | - |
| Independent | Kali Charan | 109 | 0.1% | - |