Congress wins in Faridabad NIT by 3,242 votes: Haryana Assembly Elections 2019
Neeraj Sharma of Congress beats BJP's Nagender Bhadana in Faridabad NIT
Congress won Faridabad NIT, defeating second-placed BJP by 3242 votes. INLD had won this constituency in the previous election, but Congress took control of the seat with a narrow margin in this election.
Faridabad NIT is in the South Haryana region of Haryana. It is a predominantly urban constituency.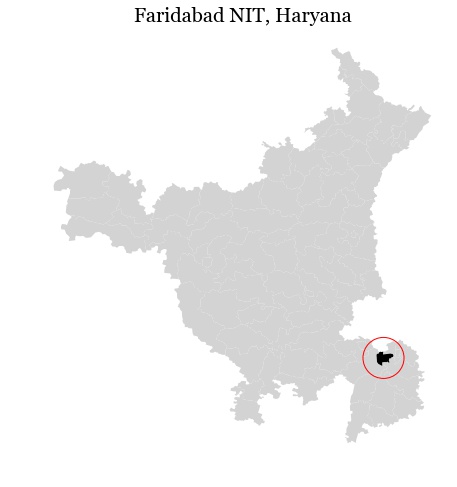 Neeraj Sharma of the Congress received 38.9% of the vote, compared to 36.8% of the BJP's Nagender Bhadana. Congress's voteshare increased by 36.9% from 2014, while BJP's voteshare increased by 11.7%.
The constituency saw a 3-cornered contest, with Indian National Congress, Bharatiya Janata Party, Bahujan Samaj Party all getting a voteshare of 10% of more.
| Party | Name | Votes | Vote (%) | Party Voteshare Change |
| --- | --- | --- | --- | --- |
| Indian National Congress | Neeraj Sharma | 61697 | 38.9% | +36.9% |
| Bharatiya Janata Party | Nagender Bhadana | 58455 | 36.8% | +11.7% |
| Bahujan Samaj Party | Hazi Karamat Ali | 17574 | 11.1% | +2.6% |
| Independent | Chander Bhatia | 6992 | 4.4% | - |
| Independent | Pradeep Rana | 3928 | 2.5% | - |
| Aam Aadmi Party | Santosh Kumar Yadav | 3240 | 2.0% | +2.0% |
| None of the Above | Nota | 1384 | 0.9% | +0.9% |
| Indian National Lok Dal | Jagjit Pannu | 1240 | 0.8% | -31.3% |
| Jannayak Janta Party | Tejpal | 1208 | 0.8% | +0.8% |
| Communist Party of India (Marxist) | Virendra Singh Dangwal | 733 | 0.5% | +0.5% |
| Independent | Nanak Chand Talan | 406 | 0.3% | - |
| Independent | Hari Ram | 357 | 0.2% | - |
| Loktanter Suraksha Party | Ram Partap Gaur | 334 | 0.2% | +0.2% |
| Jai Maha Bharath Party | Jai Parkash Singh | 256 | 0.2% | +0.2% |
| Independent | Dinesh Rai | 233 | 0.1% | - |
| Aapki Apni Adhikar Party | Deshraj Singh Rana | 214 | 0.1% | +0.1% |
| Independent | Jitender Kumar | 209 | 0.1% | - |
| Akhil Bharat Hindu Mahasabha | Manoj Sharma | 160 | 0.1% | +0.1% |
| Samajwadi Party | Ravinder Gupta | 135 | 0.1% | +0.1% |