BJP wins in Badkhal by 2,545 votes: Haryana Assembly Elections 2019
Seema Trikha of BJP beats Congress's Vijay Pratap Singh in Badkhal
BJP won Badkhal, defeating second-placed Congress by 2545 votes. It had also won Badkhal in the previous election, and retained the seat with a narrow margin.
Badkhal is in the South Haryana region of Haryana. It is a predominantly urban constituency.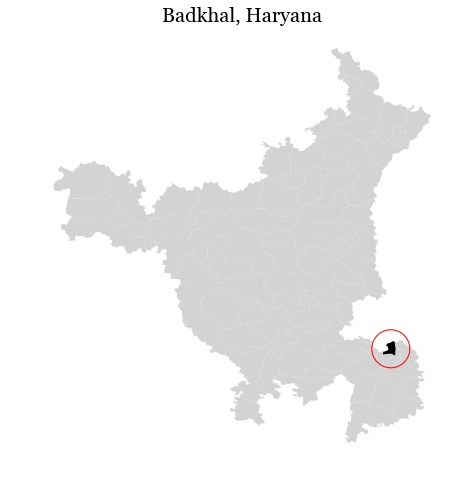 Seema Trikha of the BJP received 43.3% of the vote, compared to 41.4% of the Congress's Vijay Pratap Singh. BJP's voteshare fell by 9.6% from 2014, while Congress's voteshare increased by 16.1%.
The constituency saw a 2-cornered contest, with Bharatiya Janata Party, Indian National Congress all getting a voteshare of 10% of more.
| Party | Name | Votes | Vote (%) | Party Voteshare Change |
| --- | --- | --- | --- | --- |
| Bharatiya Janata Party | Seema Trikha | 58550 | 43.3% | -9.6% |
| Indian National Congress | Vijay Pratap Singh | 56005 | 41.4% | +16.1% |
| Aam Aadmi Party | Dharambir Bhadana | 9481 | 7.0% | +7.0% |
| Bahujan Samaj Party | Manoj Choudhary | 4481 | 3.3% | -9.5% |
| Indian National Lok Dal | Ajay Bhadana | 2362 | 1.7% | -4.6% |
| None of the Above | Nota | 2274 | 1.7% | +1.7% |
| Communist Party of India | Jagram Gautam | 951 | 0.7% | +0.7% |
| Shiv Sena | Mukesh Pehlwan | 494 | 0.4% | +0.4% |
| Jannayak Janta Party | Islamudeen Pappu | 313 | 0.2% | +0.2% |
| Rashtriya Lokswaraj Party | Jamil | 223 | 0.2% | +0.2% |
| Independent | Prem Kapoor | 201 | 0.1% | - |