BJP wins in Tigaon by 33,841 votes: Haryana Assembly Elections 2019
Rajesh Nagar of BJP beats Congress's Lalit Nagar S/O Sh. Bharat Singh in Tigaon
BJP won Tigaon, defeating second-placed Congress by 33841 votes. Congress had won this constituency in the previous election, but BJP took control of the seat with a landslide margin in this election.
Tigaon is in the South Haryana region of Haryana. It is a predominantly urban constituency.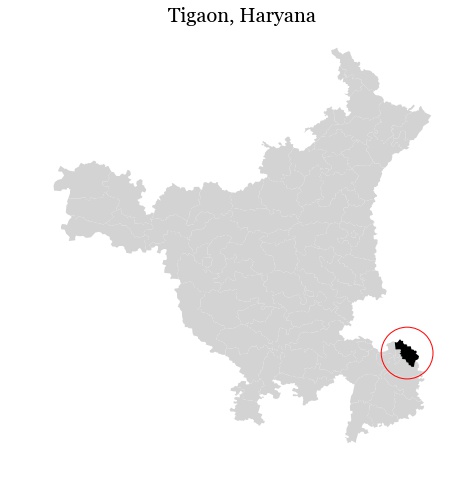 Rajesh Nagar of the BJP received 57.4% of the vote, compared to 37.4% of the Congress's Lalit Nagar S/O Sh. Bharat Singh. BJP's voteshare increased by 22.0% from 2014, while Congress's voteshare remained unchanged 0.0%.
The constituency saw a 2-cornered contest, with Bharatiya Janata Party, Indian National Congress all getting a voteshare of 10% of more.
| Party | Name | Votes | Vote (%) | Party Voteshare Change |
| --- | --- | --- | --- | --- |
| Bharatiya Janata Party | Rajesh Nagar | 97126 | 57.4% | +22.0% |
| Indian National Congress | Lalit Nagar S/O Sh. Bharat Singh | 63285 | 37.4% | 0.0% |
| Jannayak Janta Party | Pardeep Chaudhary | 2693 | 1.6% | +1.6% |
| None of the Above | Nota | 1569 | 0.9% | +0.9% |
| Indian National Lok Dal | Umesh Bhati | 1538 | 0.9% | -3.0% |
| Janata Dal (United) | Biresh Kumar Singh | 854 | 0.5% | +0.5% |
| Independent | Lalit Nagar S/O Sh. Vijay Pal Nagar | 505 | 0.3% | - |
| Bhartiya Shakti Chetna Party | Krishan Pal Singh | 488 | 0.3% | +0.3% |
| Akhil Bhartiya Kisan Majdoor Party | Randhir Singh Aka Dheeru Khatana | 480 | 0.3% | +0.3% |
| Independent | Sonu Kumar | 354 | 0.2% | - |
| Bahujan Mukti Party | Shyam Mandal | 191 | 0.1% | +0.1% |
| Loktanter Suraksha Party | Manoj Bhati | 180 | 0.1% | +0.1% |