JMM wins in Dumka by 13,188 votes: Jharkhand Assembly Elections 2019
Hemant Soren of JMM beats BJP's Lois Marandi in Dumka
JMM won Dumka, defeating second-placed BJP by 13188 votes. BJP had won this constituency in the previous election, but JMM took control of the seat with a comfortable margin in this election.
Dumka is in the Santhal Pargana region of Jharkhand. It is also a constituency reserved for ST candidates, and is a predominantly rural constituency.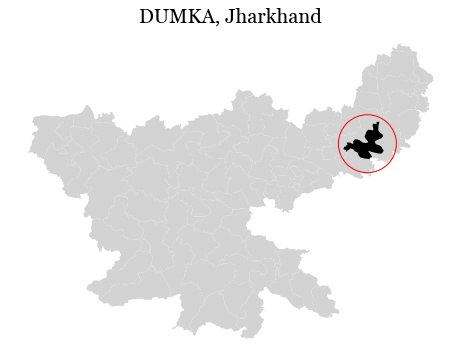 Hemant Soren of the JMM received 48.9% of the vote, compared to 40.9% of the BJP's Lois Marandi. JMM's voteshare increased by 6.6% from 2014, while BJP's voteshare fell by 4.8%.
The constituency saw a 2-cornered contest, with Jharkhand Mukti Morcha, Bharatiya Janata Party all getting a voteshare of 10% of more.
| Party | Name | Votes | Vote (%) | Party Voteshare Change |
| --- | --- | --- | --- | --- |
| Jharkhand Mukti Morcha | Hemant Soren | 81007 | 48.9% | +6.6% |
| Bharatiya Janata Party | Lois Marandi | 67819 | 40.9% | -4.8% |
| Jharkhand Vikas Morcha (Prajatantrik) | Anjula Murmu | 3156 | 1.9% | -1.1% |
| Janata Dal (United) | Marshal Rishiraj Tudu | 2409 | 1.5% | +1.5% |
| None of the Above | Nota | 2267 | 1.4% | +1.4% |
| Loktantrik Janshakti Party | Ramchandra Murmu | 1530 | 0.9% | +0.9% |
| Independent | Ramcharan Singh | 1524 | 0.9% | - |
| Independent | Sanjay Tudu | 1124 | 0.7% | - |
| Jharkhand Mukti Morcha (Ulgulan) | Devid Tudu | 1102 | 0.7% | +0.7% |
| Independent | Dr. Srilal Kisku | 1026 | 0.6% | - |
| Communist Party of India | Abinash Tudu | 918 | 0.6% | +0.6% |
| Bahujan Samaj Party | Mukesh Kumar Dehari | 721 | 0.4% | +0.4% |
| Lok Jan Shakti Party | Mohril Murmu | 715 | 0.4% | +0.4% |
| Aam Aadmi Party | Miru Hansda | 461 | 0.3% | +0.3% |